얼마전에 출시된 맥용 메신저 8 베타버전은 머니머니해도 화상채팅이 가능하다는것입니다.
Make computer-to-computer audio and video calls to your family and friends
Messenger for Mac 8 Beta provides real-time collaboration between people in different locations. Using your Windows Live ID, you can use instant messaging and audio and video calls to communicate with your contacts.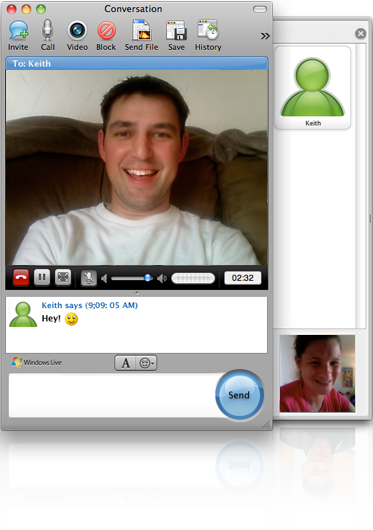 맥용 메신저 8 베타버전 소개 링크
http://www.microsoft.com/mac/products/messenger-8/default.mspx
맥용 메신저 8 베타버전 다운로드 링크
http://download.microsoft.com/download/C/C/D/CCDF7327-6E1D-44B8-94BD-9D50BEA83060/messenger8beta.dmg
참고로, 베타버전을 사용하다 보면 이슈가 발생하고 하는데, 해결책은 아래 링크 참고하세요.
http://kr.iamvip.net/1002